METALINGUS .,
REGENCY, NORTH DAKOTA --- 2011



NOBODY KNOWS WHY REGENCY BECAME AS POWERFUL AND DOMINEERING OF A CITY AS IT
DID, ESPECIALLY IN SUCH A SECLUDED AREA OF THE COUNTRY. IT IS A PLACE NOTORIOUS
FOR THE TRUTH THAT NOBODY COMES, AND, CONVERSELY, NOBODY LEAVES. GUARDED BY
OFFICERS AND A SYSTEM OF SATELLITES THAT ALERT OFFICIALS WITHIN THE BOUNDARIES
OF THE CITY, IT IS AN ALMOST IMPOSSIBLE FEAT - TO LEAVE WITHOUT BEING FOLLOWED. IT'S
A MYSTERY WHY EVERYONE IS TO BE KEPT INSIDE REGENCY'S LIMITS, BUT THEN AGAIN, MOST
THINGS THERE ARE. THERE'S NO EXPLANATION FOR THE STRICT CURFEW; THERE'S NO
REASON THAT FAMILIES ARE LIMITED TO HAVING ONLY ONE CHILD; THERE'S NO GROUNDS
FOR THE SEEK-AND-DESTROY MADNESS OF RISC. EVERY TIME A PARTIAL EXPLANATION SLIPS,
SOMETHING OCCURS THAT KEEPS THE GENERAL PUBLIC QUESTIONING. IT ISN'T
UNFAMILIAR FOR CIVILIANS TO BE ARRESTED FOR NO PURPOSE.

REGENCY IS A PLACE OF UNCERTAINTY, OF MYSTERY AND UNLAWFULNESS. IT'S A CITY OF
DANGER AND THREATS, WHERE TAKING THE WRONG TURN OR MAKING A POOR CHOICE
COULD BE FATAL. IT'S A PLACE OF PRESSURE, OF TENSION, OF STRESS, OF CONSTRAINT.

CAN YOU TAKE IT?


http://z8.invisionfree.com/METALINGUS/index.php?act=idx

Current Location:

basement

Current Mood:

dorky

Current Music:

wanna be loved --- papa roach
here's a fifteen song chunk out of my four thousand that scream
THE HARDY BOYZ
. if you don't think so, then suck it. go read their book, get the twist of fate dvd, hit up youtube for a few hours, brush up on the last ten years of their history, and spend some two months searching for any clip of the hardy show you can because you're too broke to buy it. it's very worth it. matt is for the freaking win. so is jeff, of course, i just love matt more. :]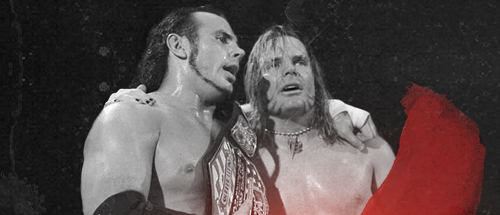 (
( HOPE YOU REMEMBER ME WHEN YOU'RE HOMESICK AND NEED A CHANGE )
Collapse
)
and here's my recent under-belt project: an fst! you know, a fanmix. the things that lonely people do when they have thousands of songs on their ipod and have them all organized into lists and then takes the time to think about it just to decide to share with the world. that's exactly what i'm doing.
Current Location:

bedroom

Current Mood:

accomplished

Current Music:

somewhere out there - our lady peace

Elise periodically reads while sitting in trees until it's too dark to see outside.
Elise is clearly the favorite child in her family.
Elise prefers enjoys English muffins over bagels.
Elise doesn't believe in wasting time making her bed.
Elise really only likes her eggs sunny-side-up and over-easy.
Elise believes that she is ridiculously underrated.
Elise would enjoy going out for Japanese right now.
Elise can't stand the smell of mustard.
Elise thinks 'extreme' is a word well worth getting excited over.
Elise firmly believes in karma.
Current Location:

bedroom

Current Music:

sweetest girl - wyclef jean
Dear Santa...

Dear Santa,

This year I've been busy!

Last week I committed genocide... Sorry about that,
vicariousills (-5000 points). Last Monday I got in line at the supermarket at the same time as someone else and I didn't yield (-8 points). Last Saturday
themoooly and I donated clothes to the needy (11 points). In October I invaded Iraq, broke it, and couldn't glue it back together before Mom got home (-1012 points). In March I pushed
tobeysgurl712 in the mud (-17 points).

Overall, I've been naughty (-6026 points). For Christmas I deserve a moldy sandwich!


Sincerely,
zomgfish
Current Mood:

tired

Current Music:

voices - rev theory


Elise must watch wrestling at least four times a week.
Elise often wants to have been born ten years earlier.
Elise craves chicken and broccoli frequently.
Elise can focus best on work when outside.
Elise has more fun than a barrel of monkeys.
Elise more often than not thinks about flying beavers in Journalism class.
Elise's weekend bedtime is roughly four in the morning.
Elise's weekday bedtime is roughly two in the morning.
Elise misses the days that Fear Factor was on every Monday.
Elise scored a 29 on her ACT.
Because I feel pressured to add to this since McBadPants started one:
Current Location:

bedroom

Current Mood:

creative

Current Music:

stuff is messed up - the offspring

Elise tends to do all of her homework ten minutes before it's due.
Elise is a very bad photographer.
Elise believes that nobody is completely normal.
Elise has a passion for inspirational songs.
Elise has eleven pairs of headphones.
Elise only has one pair of headphones that still works.
Elise would thoroughly enjoy a mixed CD of songs that make people think of her for Christmas.
Elise is convinced that mummies can actually curse you.
Elise has the oddest dream to be shot in the leg.
Elise sometimes feels the urge to do the Electric Slide.
Current Location:

bedroom

Current Music:

live for the moment - monster magnet
MySpace
- which is really far less geeky than it sounds. On there, it has a list of Matt Facts, which I thought was pretty bad ass. It got me thinking: I could probably have a list of El Facts, because I'm seriously just
that
awesome, right? Right. So I figure, why the hell not? Let's talk El. :]
These ones are based on the ones that were listed under Matt Hardy's or inspired by the ones listed there, because my brain is not working for me right now. Whenever I think of something new, I'll add it. You know you love it, and I
do
like talking about myself. xD Anywayyy -
Elise believes in being late.
Elise ideally likes to wake up at eleven.
Elise often desires coffee.
Elise always wears socks.
Elise desperately needs to learn to clean.
Elise cannot wear flip-flops.
Elise constantly feels like she needs more sleep.
Elise says what's on her mind.
Elise is in love with inspirational quotes.
Elise wishes that there was a Jamba Juice in Ohio.
Elise bites her nails because they grow too quickly.
Elise always calls shotgun.
Elise constantly sports baseball hats.
Elise prefers lo-carb Monster to regular.
Elise loathes condiments.
So I was definitely browsing online last night before I went to bed, and since I was in a Matt Hardy funk, I checked out his
Current Location:

living room

Current Music:

second chance - shinedown
stephmuffin
], who will eat me if i don't post one of these. don't you love life?
nera_fiore
and thus i've been tag!raped by steph [
Current Location:

bedroom.

Current Music:

girl with golden eyes - sixx:am


Stupid people. It's like they're everywhere. It's a freakin' plague, man, we're all gonna die.
So I was thinking, and probably shoulda wrote it all out yesterday, 'cause it was fresh then, but hey. I wouldn't have written it all out anyways. All I really think needs to be said is that the school needs to learn where to draw the line and stop talking. That, and they should, you know. Keep names out of the works, I guess. They probably think they're doing the right thing, but man, it's not coming off that way.
Current Mood:

tired